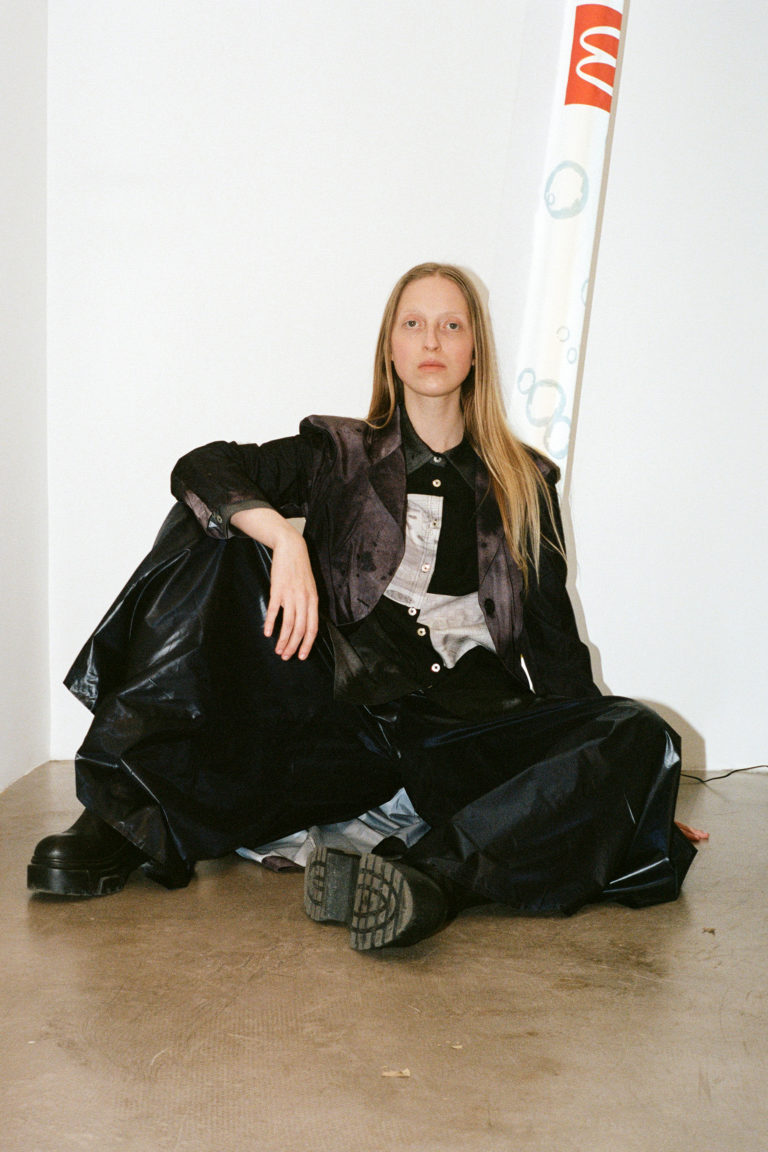 GON wird 10
Zum zehnten Jubiläum des Labels eröffnet GON einen neuen Shop in der Marc-Aurel-Straße 5 im 1. Bezirk.
Der Shop versteht sich nicht als Verkaufsraum und auch nicht als Concept Store, sondern als Möglichkeitsraum zwischen Wunderkammer, Museum, Labor, Atelier und transdisziplinärer Begegnungsstätte. Sieben Künstler*innen aus dem Freundeskreis von GON haben den Raum mitgestaltet.
Während der Raum selbst auf seine freigelegten Betonelemente reduziert bleibt, bilden die Arbeiten der Künstler*innen nicht etwa rein dekorative Ausstellungsstücke, sondern poetische Organe einer eigenen barock-industriellen Welt.
Der schmale, hohe Raum wird beleuchtet von einem übergroßen kreisrunden Leuchtring, der wahrscheinlich Stanley Kubricks "Dr. Strangelove or: How I learned to stop worrying and love the Bomb" entstammt und dem Gesamtraum GON zum paradoxen Entscheidungsraum macht: "Gentlemen, you can't fight in here, this is the War Room!"
Flora Hausers malerische Leinwandmembranen bilden weniger eine Umkleide als einen Transformationsraum für die Verwandlungen durch GON. Auf den Paravents bringt Hauser Henry Darger, Ali Mitgutsch und Quentin Blake dazu, ihr und einander ihre Geheimnisse zu verraten. Alles das verbindet sich zu einer Säule, die auch eine Station der Futurama Personenrohrpost sein könnte – man muss es ausprobieren.
Lisa Tiemanns skulpturale Kleiderstangen verankern die GON Kreationen in einer konkreten Schwebe: Die Roben werden zu Teilnehmer*innen einer Experimentalanordnung in der Erforschung noch kryptischer Energieformen, die sich in Keramikströmen entladen.
Die überdimensionale Strohhalmlampe von Daniel Ecker lässt vermuten, dass "Alice, when she's ten feet tall" dem White Rabbit an genau diesen Ort gefolgt ist. Auch der versilberte Spiegel von Andreas Duscha zeigt eben nur, was wir nicht sehen können: GON geht es nicht um beliebiges Spiegeln in der Mode, die wir tragen, sondern um die Intuitionen dessen, was hinter den Bildern liegt und neue Muster erzeugt.
Georgie Nettels ABC Tisch ist ein Ouija-Board industrieller Materialitäten. Die Zwillingspuppen von Anna Hostek erinnern an Hayao Miyazakis Visionen pazifistischer Roboter, wie er sie in Laputa: Castle in the Sky (天空の城ラピュタ, Tenkū no Shiro Rapyuta) 1986 entworfen hatte.
Die Stühle von Sophie Hirsch platzieren uns einerseits in einer etablierten Designgeschichte, durch die Veränderung einzelner Komponenten und Materialien jedoch wird die Stringenz dieser Geschichte auch destabilisiert und man merkt, das stilistische Subversion manchmal überraschender und komfortabler ist, als gedacht. Marcel Breuers "Freischwinger Nr. 1" für Thonet findet hier eine neue Sitzfläche aus Stahlketten und einem pinken Sitzkissen. Wenn man sich zurücklehnt, merkt man, dass die sonst mit festem Leder bespannte Lehne hier mit elastischem Latex nachgibt. Ein Schreckmoment, dann der Trust Fall in den Neuen Materialismus.
© Paul Feigelfeld
Big thanks an Ramin my love, an Maria meine Co-Kuratorin, an alle Künstler*innen und Unterstützer*innen und an meine Freunde und Familie!